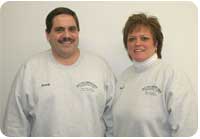 In 1990 Doug's Lawn Service was established by Doug and Natalie Marks of Redwood Falls, MN. Doug grew up in Bechyn, MN and eventually moved to Redwood Falls and began working as a full-time truck driver for a local rendering plant in the area.
After driving truck for almost nine years, he began mowing lawns on the side in Redwood Falls. As he continued to drive truck he was growing a business in lawn care which he operated with his father Kelly.
When the lawn care season was over in the fall of 1994, Doug decided to purchase a plow and began plowing snow on the side as well. As the company continued to grow in the lawn care, Doug decided it was time to venture in to landscaping and in 1997. A few men were added to head up the landscaping design and installation.
Doug's Lawn Service was then changed to Doug's Lawn & Landscaping Service to incorporate the new area of business.
Things were looking up for Doug and Natalie as they were both very driven to be successful but holding down their full-time jobs and running a business on the side started to become too much for them and they had to make a decision. The lawn and landscaping business was flourishing into more than Doug could manage and after nineteen years of trucking, he decided it was time to move forward with his business and leave the trucking behind.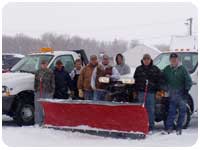 In 2000, both Doug and Natalie left their full-time jobs to pursue Doug's dream of owning and operating a full-fledge lawn and landscaping company. Since 2000 the business has grown into a full-service lawn and landscaping company serving the greater portions of Southwest and West Central Minnesota.
"We are proud of what we accomplished thus far, and can't wait to see what the future holds," Doug says. "We are a family owned business that prides itself on customer service and quality work." Doug's Lawn & Landscaping Service is fully licensed and insured and employs licensed trained professionals.